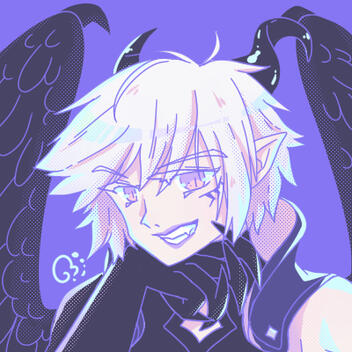 Angelos' Commissions
---
art commission info page for Angelos
Ange-ll-os @ dA / starlitreverie @ twitter & tumblr / Angelos @ inkblotSTATUS: limited opening! ask to waitlist
taking comms from my waitlist as I have timeSLOTS:
1. Jahpan growth - confirming [for late sept.]
2.
3.
--
feel free to ask for me to message when open again, please don't throw order details in advance I might lose it
---
Chibi / Tiny
Price: 25 USD Chibi / 15 USD Tiny
Chibi (top)
Extras:
+5-10 USD complexity fee
Styles: Mini (shown), Regular
Options: patterned BG (default), transparent BG, crosshatching (see 1st pic),cute chibi style with simple shading,
Mini = flat lines, Regular = tapered linesTiny (bottom)
*no complexity fee, complex designs will be simplifiedsmaller sized Mini style chibi with pixel details and patterned BG
---
Fullbody
Price: 45 USD Regular / 25 USD Crayon
Regular (top)
Extras
+10-20 USD complexity fee
+10-20 USD add detailed BG
+45 USD / extra character (max 2 extra)standard full sized art with minimal changes to proportions (vs chibis), your choice for line/shading style, comes with simple scenic or decorative or transparent BGCrayon (bottom)
Extras
+5-10 USD complexity feerough crayon texture fullbody with only simple shading for a cheaper option, on default has a squished into the canvas look (lmk if you don't want this sort of posing)
---
Toyhou.se Icon / Page Sprite
Price: 12 USD
Extras:
+ 3 USD complexity/clothing fee
*no humanoids/anthro!164x164px size simple chibis for use as icons or page decoration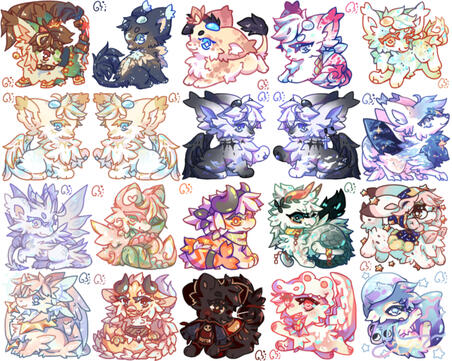 ---
Custom Design / Ref Sheet /Masterlist Art
More samples
Price Range: 30 - 50 USD
+15 USD masterlist quality (approval process, strict anatomy/trait matching needed)
+10 USD add outfit/accessory design
+10 USD complexity fee
+ 5 USD add 1-3 mini views/itemswilling to give discounts for: rough sketch concepts, (redesign of) existing character, very simple designs/anatomy, chibi art stylePlease contact me for a quote as the amount of work can really varyInclude in your order: species (real/mythical animal or original species name) AND theme/keywords/colours you wantdefault comes with fullbody ref sheet art (simple shaded + flat versions) w/ palette + name
Other Commissions
If there's another type of artwork not currently listed here you see in one of my galleries that you would like feel free to contact me to ask if it is available and for a quote.Ex. pixels, watercolour style doodles, tiled BGs, halfbody, headshot, sketch, lineart/base
Order Form
& Terms of Service
---
By commissioning me you are acknowledging you have read and agree with all my terms.
Last edit: April 10th 2022
edit: payment due date for masterlist art, add mention of trello queuePayment is priced in USD via paypal. You will be invoiced, do not send payments unprompted. If you wish to pay by dA points (100 points = 1 USD) contact me to set up a widget for you to pay.
If you give me a paypal email to invoice you must own said paypal account; do not use someone else's account/card. If you need someone else to pay give any details needed to them and have them make the order with me instead.If you want to check on the status of your commission/your place in the queue please check the trello link at the bottom in the footer which leads to my public viewable queue. I try to keep it updated, but I tend to do art in bursts so it may be a day out of date at times.Extra charges will be applied for humanoid or anthro characters (+50% of listed price). I will also let you know when you order, but I'm just listing this here somewhere.Payment is due anytime between invoicing and completion of artwork. I will not upload/give you the file prior to receipt of payment. *For masterlist art I would prefer payment within a week of sketch submission for approval, but am willing to wait until line+flat colour stage at maximum.Refunds will only be given for unstarted/unfinished art. If you need to cancel NOTIFY ME IMMEDIATELY. Full refund for art at sketch phase or earlier, partial refund depending on progress of unfinished art, no refunds for completed art.Commissioner may request a sketch to approve beforehand and may (within reason) request progress shots. Edits should be suggested at the sketch phase, charges will be applied for edits after completion unless it is an error I made. I will take liberties with pose, expression, etc. as I see fit if you do not give me any specific instructions.All rights to all art commissioned remain with me (characters still belong to their respective owners). If you do not wish for me to post your commission to my public accounts you must let me know when you order.
If you commission a sketch or lineart you are allowed to colour it or have someone else colour it, but you or whoever posts the finished version must link back to me and/or otherwise credit me. Besides conditions above YOU MAY NOT EDIT OR MAKE DERIVATIVE WORKS from my artwork even if you commissioned it.Commissioners gain permission to use their commissions for personal use and display them where ever they want with credit. I would prefer you not post full unwatermarked artwork publicly, but I will not stop you. COMMERCIAL USE IS PROHIBITED, CLAIMING ARTWORK AS YOUR OWN IS PROHIBITED.
If you wish to order artwork for commercial usage (lineart base to sell adopts, to make merch, etc.) prices will be raised and determined on a case by case basis.I have the right to refuse a commission for any reason.I do commissions in my spare time so they may take a while to be finished; I will work as quickly as I am able. If you have a deadline you must tell me beforehand and I'll tell you if I think I'll be able to make it. An additional charge may be added.
By acquiring designs from me you acknowledge that you have read and agreed to my terms of service. Design terms of service can be found on my toyhou.se account here
---
To order please send a message to me on any of my accounts (see footer) or email [email protected] (please put COMMISSION in the subject line) with the following:
"I acknowledge I have read and agree to your Terms of Service."
Commission type: [ex. chibi, fullbody]
Reference: [link to a VISUAL reference]
Paypal email: [for invoicing; or let me know you wish to use dA points]
Sketch approval? [yes/no]
Private commission? [yes/no]
Commercial usage? [yes/no]
Deadline? [yes/no]
if custom design also include
Redesign/Growth?: [yes/no; link to original design if yes]
Add-ons/Discounts: [masterlist quality, outfit/accessory, rough concept, chibi art]
Species: [real/mythical or original species; link me species info if I have not drawn them before]
Theme(s)/Keyword(s): [some sort of direction what you want]
Colour(s): [can be vague or exact or anything in between]
Other info: [anything else you want to add]